Calgary goes all-out for Country Music Week 2022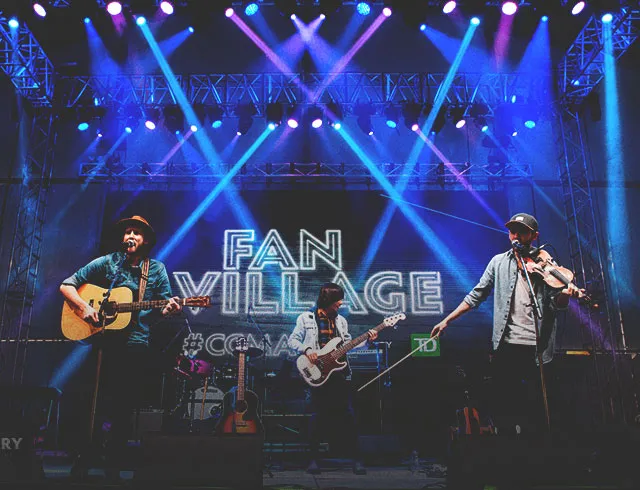 Calgary goes all-out for Country Music Week 2022
Local host committee initiatives build lasting impact

Media release
Calgary goes all-out for Country Music Week 2022:
Local host committee initiatives build lasting community impact
Country Music Week: September 8-11, 2022
CCMA Awards: September 11, 2022
September 7, 2022 (Calgary, AB) – Calgary is honoured to host the 40th anniversary of the CCMA Awards on September 11, 2022, as well as Country Music Week from September 8-11, 2022.
With approximately 6,000 guests expected to come to the city, Calgary looks forward to showing everyone why it's the ultimate host city. This year marks the 10th time the CCMA Awards show has been held in Calgary – making it the most visited host city for the Awards.
Calgary's community spirit and love for music are evident, with approximately 130 volunteers signed up to help with audience relations, logistics and production. A testament to Calgary's strong community spirit, volunteer spots filled up within 10 minutes of applications opening!
21 Host Committee and Sub Committee members have come together from the local music industry, tourism, arts and culture, marketing, media, non-profit, and business sectors, dedicated to ensuring Country Music Week and the Awards will be a smashing success.
The Host Committee supports operations, sponsorship, programming, and marketing. However, the Calgary committee also wanted to ensure a lasting community impact and invested significant effort into some new legacy initiatives.
This year, Calgary shines a light on emerging and established artists, and the thriving music scene in Calgary and Alberta. This includes the CCMA Off-Country Music Festival - four days of free live music featuring more than 60 artists at unique spaces along the Music Mile and other local venues.
The Host Committee appreciated the opportunity to partner with the First Nations Arts Alliance resulting in an Indigenous Showcase of musicians from Treaty 7 during the Off-Country Music Festival. CCMA country music artists also performed at the First Nations Arts Alliance Labour Day weekend festival at Many Horses High School on Tsuut'ina Nation.
As a new additional element, the CCMA Host Committee with support from AdFarm, designed a mentorship program for eight artists to participate in educational and networking opportunities during Country Music Week. This mentorship program was created to bring together emerging artists and music industry professionals from diverse communities. Local arts and community groups partnered to select artists who might not otherwise have had an opportunity participate due to accessibility or financial constraints.
Calgary's emerging music scene has been growing and thriving over the last 10 years with the building of new music venues, festivals, and attractions. Calgary is home to the Canadian Country Music Hall of Fame (at the Studio Bell, home of the National Music Centre), the Music Mile in Inglewood, more than 30 year-round music festivals and the Calgary Stampede which showcases some of country music's best artists every year.
Calgary and the province of Alberta have a long history of country music, featuring legends such as Ian Tyson, Paul Brandt, Terri Clark and k.d. lang. We are frequently called the country music capital of Canada, so Country Music Week and the CCMA Awards feel like a natural fit. Calgary is ready to prove once again, why it's the home of Canadian country music.
Supporting Quotes:
Ron Orr, Minister of Culture and Status of Women
The country music industry in our province sustains careers of professionals, from musicians and producers to venue stage technicians and promoters. What's more, it is a big part of our heritage and identity. Just as with country music, Alberta is a place where creativity and the spirit of independence thrive. That is why hosting the Canadian Country Music Awards are so significant. Not only does this event help grow the country music industry that adds to our province's prosperity, but it also celebrates the music that reflects our lives and makes them better.
Jyoti Gondek, Mayor of Calgary
Calgarians are dusting off their cowboy boots and our fantastic hotels and restaurants are getting ready for a week of celebration that will bring more than $12 million to our local economy. There's something for everyone during Country Music Week, whether that be the songwriters' unplugged series or the final awards show. I encourage everyone to enjoy the best in live music and take in one of the many exciting performances.
Cindy Ady, CEO – Tourism Calgary
Calgary is known for having amazing volunteers who step up to support the major events that come to the city. Calgary is an experienced host city, and we love making events come to life like this.
Mariya Stokes, Artist and Songwriter/ Legacy Committee Co-chair
Canadian Country Music Week has been instrumental in the growth of my career as an Alberta-based country artist and songwriter, and I am so excited that it's coming to Calgary in September. As a musician, the Canadian Country Music Association has allowed me to build relationships with industry folks, discover new artists and collaborators, and attend educational seminars that have positively impacted my business. I'm looking forward to experiencing Canadian Country Music Week again, right here in Calgary, and welcoming national and international delegates of the conference to be part of our incredible local and provincial music community.
Andrew Mosker, President and CEO - National Music Centre
As the official permanent home of the Canadian Country Music Hall of Fame, National Music Centre offers a hub from our headquarters in Calgary to celebrate the achievements of Canada's country icons. Music fans can explore the pioneers and history of Canadian country music through the Hall of Fame or discover a rising star on the stage of a local Calgary music venue. Country Music Week is a wonderful opportunity to share Canada and Calgary's vibrant country music scene with visitors from far and wide. We're thrilled to welcome the event back to the city for a record-breaking 10th time. It's going to be an incredible week!
Supporting Information:
- Country Music Week 2022 includes an amazing showcase of local artists and venues with the CCMA Off-Country Music Festival. The festival consists of four days of FREE live music in 16 unique spaces along the Music Mile. Local activations will feature more than 60 artists, including an Indigenous showcase, women in song, and emerging artists in various venues across Calgary. The CCMA Off-Country Music Festival full schedule of events is available here.
- Country Music Week fan-facing events including Songwriter sessions and the CCMA Legends Show can be found here.
- Many events are close to selling out!
- Tickets for the CCMA Awards show on September 11 are available here.
- Tourism Calgary estimates the CCMA Awards and Country Music Week will bring about $12 million into the local economy.
About Tourism Calgary
Tourism Calgary is the official destination marketing and development organization for Calgary's tourism industry. For more than 60 years, the organization's primary purpose has been to promote Calgary and area as the destination of choice for leisure travellers. With a vision of making Calgary the ultimate host city, Tourism Calgary markets the city locally, nationally and internationally and advocates for its ongoing development as a destination. The organization hosts and attracts visitors and events and activates the city by fostering the growth of shareable, memorable experiences. Pre-pandemic, Calgary's tourism industry contributed approximately $2.5 billion in visitor spending by over 7 million visitors annually. For more information about Tourism Calgary, please visit www.visitcalgary.com or follow @tourismcalgary on social channels.
Media Contact:
Tracy Larsson
Manager, Communications
Tourism Calgary
403 470-1086
tracyl@tourismcalgary.com