Several updates were made today by the federal, provincial and municipal governments.
This afternoon, The City of Calgary ordered the suspension of group sport activities, and the closure of skate parks in addition to playgrounds.
At the federal level, several new support programs for small businesses were announced. The Tourism Industry Association of Canada (TIAC) provided the following summary:
Increased Wage Subsidy to 75% for qualifying businesses
The government's previously announced wage subsidy of 10% will be replaced by a wage subsidy of 75%, helping tourism businesses keep employees on payroll and position the industry for recovery once this health crisis is over. 
Eligibility criteria will start with the impact of COVID-19 on sales. Further details regarding eligibility will be shared by the government shortly. 
This subsidy will be available to small and medium businesses for up to three months and retroactive until March 15, 2020, allowing tourism businesses to potentially re-hire laid off staff. 
Deferred GST & HST payments, duties and taxes on imports until June 2020
A measure equivalent of providing up to $30 billion in interest-free loans to Canadian businesses. 
Deferred payments to allow businesses to have more liquidity on hand to survive the financial impact of COVID-19.
Canada Emergency Business Account
Banks will offer $40,000 loans, guaranteed by the government to qualifying small businesses and loans will be interest-free for the first year. Qualifying businesses must have payrolls of less than $1 million.
Full loan repayment by December 31, 2022, will result in a 25% loan forgiveness up to $10,000.
Loans will be available through eligible financial institutions and will be fully guaranteed and funded by the Government of Canada
New access to Credit through Small and Medium-sized Enterprise Loan and Guarantee program 
The government announced $12.5 billion of additional support and access to credit through EDC and BDC to help small and medium-sized enterprises with cashflow requirements through the new Small and Medium-sized Enterprise Loan and Guarantee program. 
Businesses can apply for a guaranteed loan through their banking institution to access this additional financial support. 
Loans of up to $6.25 million will be made available to small and medium-sized businesses in Canada directly through their financial institutions
Previous update - March 26, 2020
As you've shared with us over the last few weeks, the impacts of COVID-19 have forced you to make very difficult decisions about the operations of your business. An overwhelming number of you have had to enact temporary layoffs as a result of the changing environment. As of March 26, Tourism Calgary had to do the same. Faced with significantly decreased funding, and uncertainty about timelines, 60 percent of Tourism Calgary's valued team members were given notice of temporary layoffs, effective in early April.
We want to stress the temporary nature of the layoffs, and the fact that we're still here to serve you, our industry partners. A core team - on reduced compensation and some on reduced hours - has been retained to help our partners and organization navigate this crisis period and prepare for recovery. We know that when that time comes, it will be more important than ever for our industry to pull together, support each other and get Calgarians back to experiencing – and sharing – all that our great city and region have to offer. Then, we will invite the world.
We expressed our deep appreciation to our team members who are accepting temporary layoffs. We know that they are eager to rejoin Tourism Calgary as soon as it is prudent, and we're equally eager to have them back. Because of our team, and our committed and passionate industry, tourism in Calgary will return to the strong and vital industry it was only a month ago.
Previous update - March 23, 2020
Through tough times in our city, Calgary's tourism industry has shown time and again that we support each other, and this tough time is no exception. We're seeing so many examples of collaboration, perseverance and daring and undaunted ways of sharing the best Calgary has to offer – even if those things are looking and feeling a little different. We certainly aren't surprised to see this, but it warms our hearts nonetheless. Your love and pride of your employees, businesses and Calgary is shining bright.
This week, Tourism Calgary's advocacy efforts seeking support for the tourism industry will continue. We will be convening a small roundtable of leaders from every sector of our industry to discuss our advocacy efforts on behalf of the industry, and to ensure the breadth of the visitor economy is represented. We'll announce another virtual townhall with CEMA and AHS to allow you to ask questions directly of them, and, we'll have another survey for you, to ensure our data is complete and up-to-date. Please watch for that, and thanks in advance for your input.
Finally, this week we're going to be asking for you to share your stories of how your business and employees are finding new ways of sharing your experiences, so we can highlight and support them. Please stay tuned for those details.
Corporate income tax changes:
Corporate income tax balances and instalment payments will be deferred from March 19 until August 31, 2020 to increase employers' access to cash so they can pay employees, address debts and continue operations.
Education property tax deferral:
Education property tax rates will be frozen at last year's levels - reversing the 3.4 per cent population and inflation increase added in Budget 2020.
Collection of non-residential property tax for businesses will be deferred for six months.
Municipalities are expected to set education property tax rates as they normally would, but defer collection.
Deferred amounts will be repaid in future years.
Commercial landlords are encouraged to pass savings on to their tenants through reduced or deferred payments to help employers pay their employees and stay in business.
Businesses capable of paying their taxes in full are encouraged to do so. This will assist the province in supporting Albertans through the pandemic.
WCB premium payment deferral:
For small and medium businesses, the government will cover 50 per cent of the 2020 premium when it is due in 2021 - saving businesses $350 million.
Large employers will have their 2020 WCB premium payments deferred until 2021, at which time their premiums will be due.
Employers who have already paid WCB premiums in 2020 are eligible for a rebate or credit.
Resources are also available through the Federal government's Regional Development Agencies. The Government of Canada is taking action to support tourism and other businesses and workers affected by the COVID-19 pandemic. You can take advantage of new investments and initiatives such as:
Enhancements to the Work-Sharing program to help support employers and their workers who are experiencing a downturn in business due to COVID-19.
Waiving the mandatory one-week waiting period for Employment Insurance (EI) sickness benefits.
Income support for those who are not eligible for EI sickness benefits is also being explored.
Also, a few key questions and answers relevant to our industry from today's virtual townhall with CEMA and AHS include:
Should hotels remain open? At this time, there are no restrictions around hotels. Properties can remain open if they wish; however, cleaning processes should be reviewed and enhanced, and symptomatic guests should be accommodated to ensure they're able to self-isolate;
What are the recommendations around outdoor sport organizations that host practices on open fields? At this time, it is not recommended to engage in sporting activities where competitors can come into close contact, even if those activities take place outdoors;
What is the response to breweries making hand sanitizer? The city has received lots of offers of support, and they are greatly appreciated. CEMA is doing what it can to get approval from the federal level so that these organizations may move forward with their plans to offer support.
Let's keep showing our love and pride for our community, and for each other.
Previous update - March 18, 2020 at 5:30 p.m.
As expected, the afternoon of March 17, Premier Jason Kenney announced financial assistance for Albertans and employers during the COVID-19 pandemic. Details around how the programs will operate are expected in the next week; however, just announced are financial supports for Albertans including:
Employer support: To give employers increased access to cash in order to pay employees, address debts and continue operations, the government will defer the collection of corporate income tax balances and installment payments, due after today, until Aug. 31, 2020. This gives Alberta businesses access to about $1.5 billion in funds to help them cope with the COVID-19 crisis.
Emergency isolation support: A temporary program for working adult Albertans who must self-isolate because they meet the Government of Alberta's published criteria for self-isolation, including persons who are the sole caregiver for a dependent who must self-isolate because they meet the public health criteria, and who will not have another source of pay or compensation while they are self-isolated.
Utility payment holiday: Residential, farm and small commercial customers can defer bill payments for the next 90 days to ensure no one will be cut off from these services during this time of crisis. This will cover electricity and natural gas, regardless of the service provider.
Student loans repayment holiday: The government will implement a six-month, interest-free moratorium on Alberta student loan payments for all individuals who are in the process of repaying these loans.
ATB Financial customers impacted by COVID-19:
Personal banking customers can apply for a deferral on their ATB loans, lines of credit and mortgages for up to six months.
Small business customers, in addition to payment deferrals on loans and lines of credit, will be provided access to additional working capital.
For other business and agriculture customers, ATB will work with customers on a one-on-one basis and further solutions are being considered at this time.
For more information on ATB's relief program, please visit their website.
Alberta credit unions:
Credit union members will have access to a variety of programs and solutions designed to ease difficulties with loan payments and short-term cash flow.
Both individual and business members are encouraged to proactively contact their credit union directly to work out a plan for their personal situation.
Previous update - March 18, 2020 at 10 a.m.
Thanks to all Tourism Calgary partners and stakeholders who have been completing our surveys and helping us understand and share the impact of COVID-19 on Calgary's tourism industry.
With the situation changing daily and hourly, so does the impact. We know from our most recent surveying from March 14 to 16, fully 86 per cent of Calgary's tourism industry members have already been impacted by the COVID-19 pandemic. As an industry that includes many small businesses, you are feeling the residual impacts which for many have included the very difficult need to lay off staff. We know there is an urgent need for financial support.
Tourism Calgary is sharing the results of our surveys with government partners and others to help them realize the significant impact of COVID-19 on our industry. In fact, Cindy Ady, Tourism Calgary's CEO, will be joining Premier Jason Kenney's economic roundtable on March 18 to help him and his government understand how our industry specifically is being impacted and what support would be helpful, based on what you're telling us.
Tourism Industry Association of Canada has outlined the details, and at a high level, they include:
Previous update - March 17, 2020:
On March 17, a virtual information session was hosted by Calgary Emergency Management Agency (CEMA) Chief Tom Sampson, and Dr. Nicholas Etches from Alberta Health Services following the Government of Alberta's declaration of a state of emergency under the Public Health Act. Invitation to this information session was extended to other partners of The City of Calgary, in addition to Calgary's tourism industry.
Because the information is changing so quickly, we aren't able to record these sessions. This ensures we are not sharing out-of-date information.
All events over 50 people are cancelled.

Albertans are restricted from attending bars and nightclubs, where minors are prohibited by law.

Sit-down restaurants, cafes, coffee shops, food courts and other food service facilities, including those with minors-allowed liquor license, are limited to 50 per cent capacity to a maximum of 50 people.

Take-out, delivery or drive-through service is permitted;

Licensed facilities are permitted to deliver liquor; however,

Buffet restaurants are an exception and must close.

Mass gatherings are now limited to no more than 50 attendees.

This includes: Conferences, worship gatherings and family events such as weddings and funerals.

This does not include: Grocery stores, shopping centres, health care facilities, airports, the legislature and other essential services.

Albertans are prohibited from attending public recreation facilities and private entertainment facilities.

This includes: Gyms, swimming pools, arenas, science centres, museums, art galleries, community centres, children's play centres, casinos, racing entertainment centres and bingo halls.
For further information regarding this update, please click on the following links or copy and paste them into your web browser:
To access the poster referenced in the information session by CEMA and AHS, see:
The goal is to flatten the curve and slow down the transmission of COVID-19.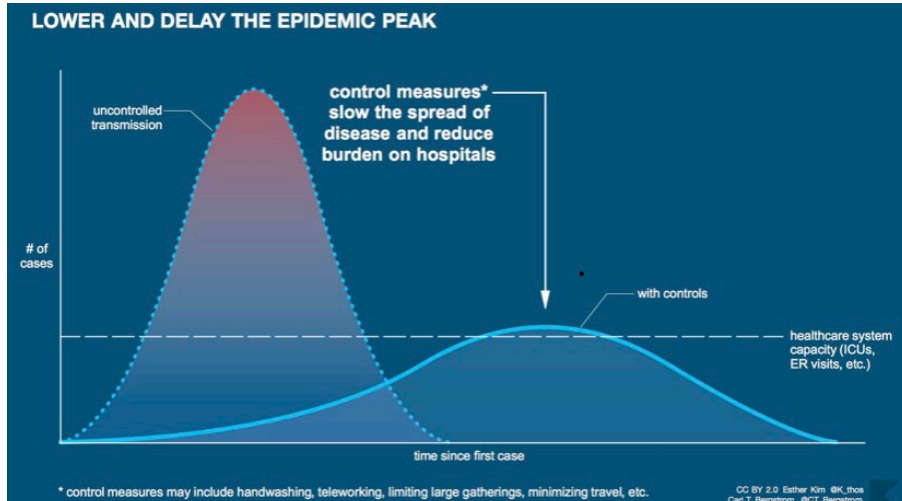 Previous update - March 16, 2020:
Previous update - March 13, 2020:
On March 13, a virtual townhall special to Calgary's tourism industry was hosted in conjunction with Calgary Emergency Management Agency (CEMA) Chief Tom Sampson, and Dr. Nicholas Etches from Alberta Health Services.
Staying home if you're sick and encouraging your colleagues to do the same;
Doing what you can to support and educate your organization and your customers;
Post signage in all entryways that encourages people to go home if they show symptoms;
Post signage throughout the facility that encourages patrons to wash their hands;
Providing hand sanitizer, and making it easy for people to wash their hands; and
See what you can do to space people out.
Previous update - March 10, 2020:
We will continue to actively monitor the situation, develop mitigation strategies with partners and to update this page as new information becomes available.
Previous update - March 2, 2020:
COVID-19 is having an impact on tourism around the world. Canada and its tourism destinations are already experiencing the impact through the cancellation of flights and of conferences and events. As the virus continues to spread, we expect to see further impacts nationally, provincially and locally.
While there are no known cases of COVID-19 in Alberta, the tourism industry is especially vulnerable to global pandemics. For that reason, Tourism Calgary is working closely with partners to support our industry and the local tourism economy by shifting our marketing efforts for 2020 to a national and regional approach. By being responsive and nimble in our efforts, we aim to mitigate the impact on those who work and operate businesses in Calgary's $2 billion tourism industry.
Tourism Calgary is working closely with our partners, including Calgary Emergency Management Agency, the Calgary Hotel Association and YYC Calgary International Airport to ensure our industry is prepared.
Previous update - Feb. 25, 2020:
We will continue to monitor the situation and to update this page as new information becomes available.